Radistrya was awarded an IAASM scholarship in 2018 and has been undertaking a Residency Programme in Aerospace Medicine in Indonesia for the past 3 years. She has recently graduated as a Specialist in Aerospace Medicine and is keen to further develop aerospace medical practice in Indonesia.

She has been offered and has accepted a position on the staff in the Residency Programme at the University.
Her own words best describe the value of the IAASM Scholarship award to her: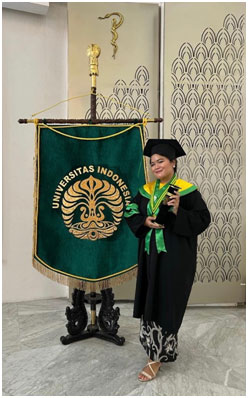 Since obtaining my medical degree, I have wanted to specialize in aerospace medicine. In 2018, I was awarded with the IAASM Scholarship to attend the aerospace medicine residency program at Universitas Indonesia.

Besides the financial aid provided by the scholarship, I also had regular correspondence with the scholarship committee whose support has been very valuable throughout my education.

I am proud to say that I have graduated cum laude and achieved one of my main career goals as an aerospace medicine specialist degree in Indonesia and am looking forward to developing this field of study in my country. All of this would not be possible without the help of the IAASM Scholarship, which I am very grateful for.